The average person spends an hour and a half each day on social media, and during that time, they see and share a lot of memes. Meme culture is constantly evolving, and new ones can go viral in the blink of an eye! The savvy marketer should know how to utilize the right memes at the right time to best connect with their audience. Many brands are now using memes heavily in their marketing, and there are even some unaffiliated accounts dedicated to memes about brands. Here's how to incorporate memes into your marketing strategy.
Know Your Audience 
This is true for any marketing strategy, and memes are no exception. Figure out the general demographics of your customer base, and consider which memes would fit their interests and sense of humor. Memes are not a one size fits all. This can be a tough road to navigate – use the wrong memes that don't resonate with your audience, and you may appear out of touch.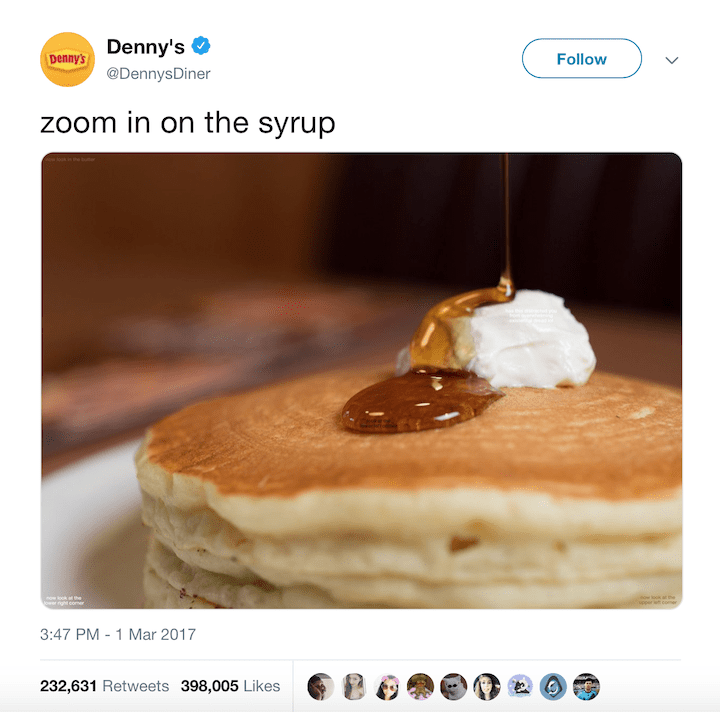 Here's an example of a brand successfully connecting with their target audience demographics with a meme. "Existential dread" is a common theme of millennial humor, which made it resonate with the audience, and go viral. The retweets and likes don't lie.
Be Original
Although memes are generally jokes retold in different ways, you should still incorporate original details only relevant to your brand. Don't just repost someone's meme without adding your brand's unique flair – your ultimate goal is still brand awareness. Because the internet is so saturated with memes, you'll have to put in some effort to stand out.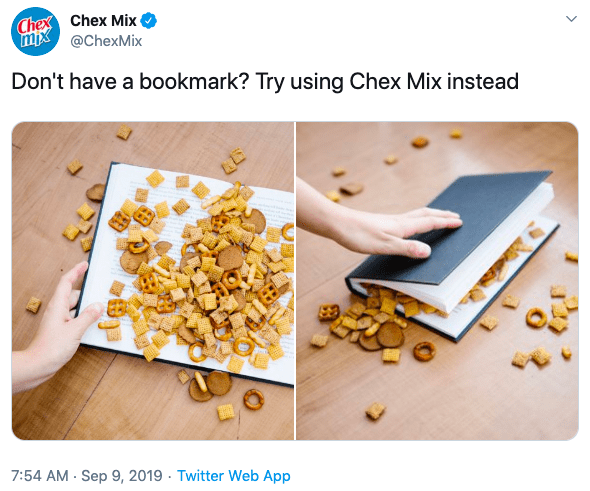 This Chex Mix meme is both original and pushing absurdity. On the plus side, viewers are likely to remember an ad that stands out in their mind as strange, so it's a success in our book…get it?
Stay on Trend
Like we mentioned before, meme culture is constantly evolving, and that meme you thought was fresh last month may be considered dead now. The nature of the Internet is such that some memes can get overused, and would evoke annoyance in viewers instead of laughter. Be aware of what topics are on-trend and make sure you're up to date on the memes you use, or else you'll end up acting like this meme.
Here's Wendy's using their meme prowess to acknowledge a meme is dead and asserting they're above other brands that use old memes.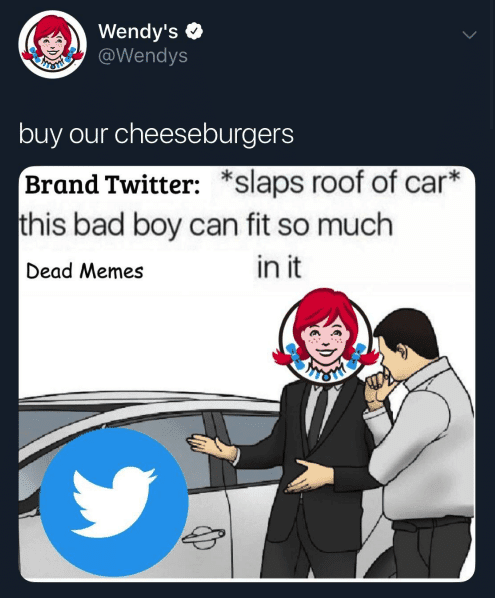 There you go! Just don't go overboard – remember, with marketing memes, less is more. You want to use the right amount of meme to connect with your audience without trying too hard. Meme away!